Geht doch: die Regierung von Frankreich hat heute den Ausstieg aus dem unnützen und aufgezwungenen Großprojekt, Großflughafen bei Notre-Dame-des-Landes, bekannt gegeben.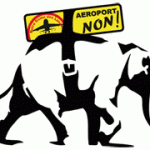 Erste Stellungnahme via Béatrice von Acipa, ZAD:
"Today the Government has at long last announced that the airport project at Notre-Dame des Landes has been abandoned.
Closure will actually become effective on 9th February when the DUP (Declaration of Public Utility) expires.
If abandoning the project is confirmed, it will mean a historic victory over a destructive planning development, made possible thanks to a long movement of determined and varied action.
Today we wish, first and foremost, to warmly thank all those who have taken part in the fight against this airport project over the last 50 years.
As regards the Zad (Defence Zone), the whole movement declares from now on that:
- the expropriated farmers and inhabitants need to recover their rights as quickly as possible;
- all those who came these last few years to live on the land and defend it and who wish to stay and take care of it must not be expelled;
- the land should be cared for by the movement in all its diversity -farmers, naturalists, locals, associations, old and new residents. In order to achieve this, we need a freeze period before the land is institutionnally redistributed. In the future, this territory should remain a space for a social, environmental and agricultural experiment.
This is a call to you all to converge in large nimbers on the ZAD on 10th February to celebrate the end of the airport project and to continue building the future of the land.
On this memorable day, we also wish to send a strong message of solidarity to all the other struggles being waged against mega destructive projects and for protecting threatened territory.
Groupe GPII de NDDL